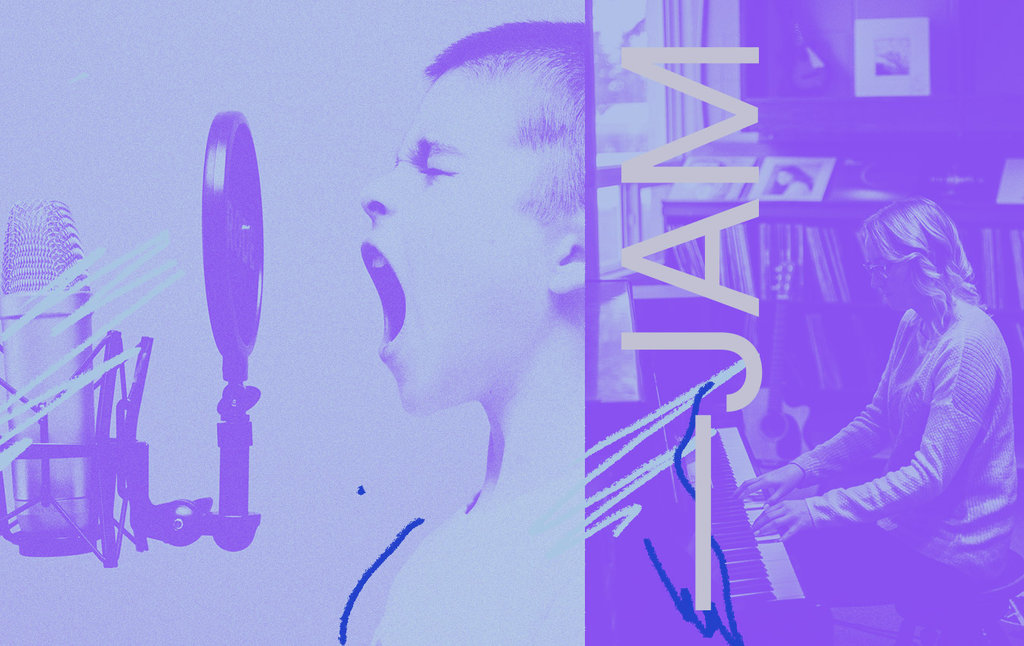 Since the day Muzo was founded, music has always been a guiding principle in everything we do. Indeed, our Muzo founders have enjoyed a successful music career in parallel with furniture design.
On the surface, the connection between music and furniture is not immediately obvious. But throughout 20 years of developing learning and workspaces, we've come to realize that the two go hand in hand – from exploring creativity to supporting learning.
The benefits of music in a learning environment
Today, Muzo is on a mission to help educators recognize the benefits of music in academic settings. We want schools to understand the importance of music in the curriculum, and reverse the current trend of budget cuts in the arts. 
You may have heard of the Mozart Effect: the notion that classical music can improve our spatial awareness and enhance our learning.
The benefits of musical learning go beyond the listening, however. By introducing children to music at an early age, educators can:
•  Increase children's memory recall
•  Develop children's 'left brain' – ideal for language processing and reasoning
•  Help children to recognize patterns and improve their mathematical skills
•  Encourage teamwork, for example, with orchestra sessions
•  Build children's confidence through the application of a new skill.
•  Learning musical skills has also been proven to help students with additional learning needs.
For example, children with Attention Deficit Hyperactivity Disorder value the structure that music brings. Meanwhile, the social nature of 'jamming' helps to build confidence.
At Muzo, we believe in freedom of creative expression, which has informed our product design since the beginning.
Using music to inspire furniture designs
The furniture industry has long been plagued by preconceived ideas that do not challenge the status quo: identikit designs lacking in color, imagination, or indeed, usability. We believe that furniture should be like music – free, creative, and fun. Likewise, music often has a purpose. 
Some of our biggest musical inspirations are purpose-led in their work. Our CEO Darren counts Woody Guthrie as something of a role model. The country singer was known for his activism, and his work led to the creation of the Woody Guthrie Foundation. The foundation has been instrumental in funding crucial medical research.
Our furniture is purpose-led, too. Whether it's to encourage mobility, flexibility, creativity or confidence, every unique piece can be adapted to fit the user in multiple applications. 
Introducing the JamLab
Our new JamLab™ concept is championing the principles of flexible learning – offering a "pop up studio" solution empowering youth creativity & experiential learning In any space via unique mobility, storage, multifunction & acoustic control of performance.
We complement the space with our Xbrick functional building blocks, allowing students to build stage areas and seating to fit their needs.
2021 will also see the launch of our patent pending MDesk, which again, channels the vibes of the musician lifestyle to facilitate learning. This "work and learn anywhere" concept involves a pop-up desk which also serves as portable luggage. We were inspired by the "roadie" lifestyle and believe that children should be able to learn wherever they go.
Our plans for the future
To date, we have had ample opportunities to include music in our business plan. In 2018, we were honored to be able to play our own original material at the Woody Guthrie Center in Tulsa. We even had the chance to sign the Wall of Fame – joining the likes of Bob Dylan.
We're currently working on interior and furniture designs for the OKPop Museum in Tulsa. We're also supporting Aniba and the Sol Starz with their new music release. Our CEO knows the band personally and was pleased to host them when they played on JBTV. Darren had a hosting role on JBTV, which is the longest-running show in the US dedicated to showcasing new artists.
If that wasn't enough, our new factory in Pennsylvania features a 9-acre festival site, and will host such events as the annual EdFest – celebrating arts and culture. We're encouraging the local community to come in and 'jam' with us in this vast performance space.
From humble beginnings jamming at home to joining the Wall of Fame, it's been an incredible journey. Look out for more of our musical contributions and designs in the weeks to come. It's all part of our mission to showcase the power of music.
Listen to the Muzo story, told through a song penned by our CEO and performed by the Muzo team.